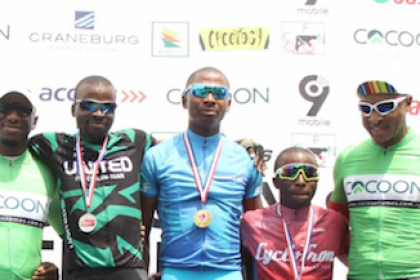 Innovative Real Estate Company and developers of the Cocoon Atlantic Estate, Cocoon Homes Ltd, has partnered with the Sustainable Cycling Foundation of Nigeria as a key sponsor for the 2017 edition of the Lagos City Criterium.
The Lagos City Criterium is a competitive cycling tournament around a technical 2.9km circuit starting and ending on the opposite side of dolphin estate, Ikoyi Lagos. The event took place on the 11th of November 2017.
The November edition of the Lagos Cycling Criterium, saw cyclists from the pro male, pro female, junior boys and junior girls categories, come from all over the country to compete on the classic racing course cycling before crossing the finish line. As part of the sponsorship, Cocoon Homes unveiled the traditional cycling sponsored winner jerseys and announced its Cocoon Atlantic project in which construction will begin within a few weeks.
Speaking at the opening ceremony of the Criterium, Mr. Farouk Imam, Managing Director, Cocoon Homes Ltd said that, "Cocoon Homes is excited to be part of the Lagos City Criterium. This sporting event is very important to us because it will help raise awareness on cycling not only at the grass roots and for youth, but as a sport that should be adopted by all Nigerians for its positive attributes which include better physical and mental wellbeing".
According to him, "Cocoon Homes has a strong partnership with the Sustainable Cycling Foundation (SCF), and the organization is committed to fulfilling its Corporate Social Responsibilities through this support.
We believe that the Lagos City Criterium is a way of developing cycling as a sport amongst people of all ages and backgrounds. Furthermore, cycling bridges the social gaps and division that exists in our society, thereby creating better opportunities for people, especially the youth who make up a significant percentage of the Nigerian Populace."
The Sustainable Cycling Foundation was founded in 2015 and there has been over 16 Criterium in Port Harcourt and Lagos since the foundation was founded. The November edition of the Criterium is the opening edition of the Lagos City series for 2017/18 season.
The Sustainable Cycling Foundation provides a pathway to maintaining a positive youth sport culture through training and development of the cycling in Nigeria. The foundation has been involved in various intervention programmes which include team sponsorship, and advocacy programmes on the health benefits of cycling.
Cycling is a cornerstone of Cocoon Home's corporate social responsibility strategy and the innovative real estate company is committed to supporting cycling at the grassroots level. Cocoon Atlantic, promises to be an affordable community with lifestyle amenities. The estate is located in Sangotedo and will have a total of 384 units which includes 3-bedroom apartments, 3-bedroom and 4-bedroom townhouses.
Other amenities planned in the estate include water with water treatment facilities and sewage treatment, solar power, good and accessible road networks, retail spaces, playgrounds and sufficient parking spaces for residents and guests. It will be an attractive place to live upon completion.