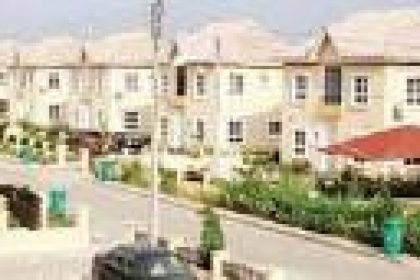 Abuja
Stakeholders in the housing sector have predicted that the real estate industry will witness a major boost in the year 2018 despite its abymal performance in 2017.
The industry, which contributes 6.79 per cent to real Gross Domestic Product, dropped to 4.12 per cent in the quarter of 2017.
Speaking at the Real Estate Outlook 2018 Conference convened by AlphaCrux Limited recently, the Statistician-General of the Federation and Chief Executive Officer, National Bureau of Statistics, Dr. Yemi Kale, said the Nigerian economy, despite being susceptible to internal shocks such as insecurity, and external shocks from fluctuating global oil prices, among others, would, according to the World Bank forecast, experience modest growth in 2018.
Represented by his Technical Adviser, Lola Talabi-Oni, Kale stated, "The strong momentum of the global economy is expected to continue into 2018 with a forecasted global GDP growth of 3.9 per cent by the IMF. Here in Africa, the Sub-Saharan region is not left out of the global economic recovery as the IMF forecasts a growth of 3.3 per cent and 3.9 per cent within the region for 2018 and 2019, respectively.
"However, amidst these positive projections, some risks and challenges remain. Although analysts have predicted cyclical improvements in the near term, the consensus advocates for caution in the medium to long term."
Kale said the dip in real estate's contribution to the GDP, from 6.79 per cent to 4.12 per cent in the third quarter of 2017, came as a surprise but noted that the industry performed better during that same quarter than it did in the same period the year before.
"The continued disinflation within the economy should therefore be good news to stakeholders within the real estate sector," he added.
The Chief Executive Officer, Northcourt Real Estate, Tayo Odunsi, said real estate, as part of the larger economy, could not be said to be in growth, but was rather still recovering from the economic woes of the previous quarters.
Odunsi stated that industry players needed to conceptualise innovative concepts necessary to deepen it and fast-track growth
He noted that the key considerations that could shape the property market this year were the declining vacancy rate across cities and the office market shifting towards co-working space due to its flexibility as well as investors preferring smaller retail malls.
"With millennials accounting for 70 per cent of Nigeria's population, developers are forced to come up with innovative developments like students' housing and other affordable schemes as young people now have preference for smaller apartments rather than investors building sprawling apartments with no occupants," he said.
The Managing Director, Uraga Real Estate Limited, Dr Gbadamosi Yakubu, stated that government across levels should start thinking of collaborating with the industry players to bring about the desired change.
"Government's plan towards affordability is key and it must start from land allocation to ease access to land," he said.
A chartered surveyor and valuer and President, Nigerian-British Chamber of Commerce, Akin Olawore, stated that there was a need for a change of attitude towards homeownership in the country in terms of funding.
"As Nigerians' attitude continues to change towards house ownership, we have to seek innovative and ingenious ways of funding rather than rely on government's spending, especially now that young people dominate the population," he said.