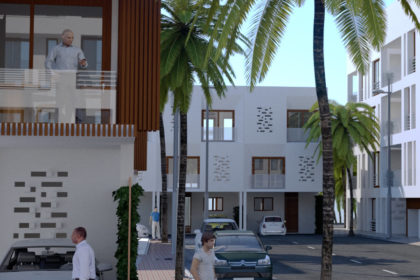 Gated communities are residential neighbourhoods or housing estates with strictly controlled entrances that are often characterized by a closed perimeter of walls and fences. These communities come with their perks and in a boisterous city like Lagos, the importance of that extra quietude and privacy that gated communities offer amongst others are well worth striving to enjoy.
If you're a Lagosian looking to buy a house, beyond the benefits of comfort that they offer, houses in gated communities are also very good investment portal. They are proven to carry more ROI (return on investment).
Here are 6 reasons you should be living in a gated community as a Lagosian:
Security:
This is by far one of the most important advantages of living in a gated community. Gated communities have controlled access into the neighborhood. Thus, risk of mishap and security challenges is significantly reduced.


Apart from the general security facilities provided by the community, close proximity of units also creates a more secured neighborhood. Neighbors are usually at alert for each other.
Connected Living:
Gated communities are normally situated at strategic locations close to the city's business and entertainment centers. This is to ensure easy accessibility of basic amenities. Shopping complexes, schools, and hospitals usually operate within close proximity to most gated communities. A very good example is the Cocoon Atlantic Estate in Sangotedo-Lekki situated just few minutes away from attraction points like the Novare Mall (5 minutes away), The Lagos Business Schools (13 minutes away).
Return on Investment:
Due to the many perks that characterize gated communities, houses within this neighborhood are known to yield high return on investment. Thus, as a sharp Lagosian looking to buy a home, you should consider going for homes situated in gated neighborhoods.


Facilities and Convenience
Houses in a gated community enjoy facilities that are shared by the community; free gym, sport arena, parks, laundromats and commercial stores. These are facilities you'll ordinarily pay extra fees for in single, stand-alone homes. The presence of these facilities also assure a level of convenience and comfort for residents. Inhabitants of gated community usually have their immediate needs met without leaving the estate.
The Cocoon Atlantic Estate in Sangotedo-Lekki has an amazing array of facilities it comes with.
Maintenance:
Maintenance cost is significantly reduced for houses in this neighborhood because cost is mostly shared, except for personal costs that are usually minimal. Gated communities are usually maintained by HOA (Home Owners' Association)
Quietude and Privacy:
Lagos is no doubt a boisterous city that makes every extra source of quietude and privacy worth it. Living in a gated community offers a calm and quite environment for living. Residents often enjoy a happy and peaceful lifestyle.
Looking for houses in a serene gated community in Lagos? Check out Cocoon Atlantic, a mid-income estate comprising of 384 units of Townhouses and apartments designed to give comfort to its residents.