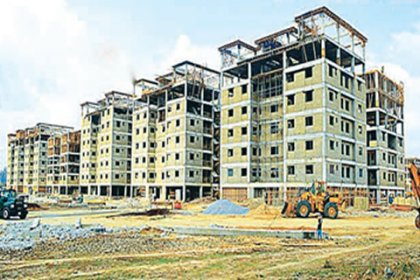 Real estate is supposed to be one of the fastest growing sectors in the Nigerian economy, but practitioners said absence of regulation and finance have remained a clog in the wheel of the sector's growth. DAYO AYEYEMI reports
Nigeria possesses all the key factors for real estate investment and growth; a burgeoning middle-class population, growth in consumption, rapid urbanisation and a young demographic.
But despite all these, the sector has not been able to contribute positively to the nation's Gross Domestic Products (GDP) in the last two years due to economic impasse.
The industry has since been experiencing a major slump, leading to a huge number of vacant and abandoned properties/projects and defaults in rental values owing to low-purchasing power of people.
Although the nation is technically out of recession, raising hope for a rebound real estate sector, but the built environment experts are expressing concerns over lack of regulation in the industry, saying this has made it an all-comer's affairs.
Besides, they identified absence of cheap funds as another major obstacle.
New Telegraph's investigation shows that there is no agreement among stakeholders on the nation's housing deficit figures.
While some subscribed to the United Nations (UN)'s 17 million housing deficit, others queried how the figure was arrived at.
These shortcomings, among others, housing stakeholders said, have limited development of the sector and its potential to contribute maximally to the growth of Nigeria's GDP.
Experts' perspectives
According to the first Vice President, Nigerian Institute of Town Planners (NITP), Mr. Olutoyin Ayinde, and Managing Director, Mixta Nigeria, Mr. Kola Ashiru-Balogun, except the sector is properly regulated and its activities coordinated, practitioners might end up in confusion.
They bemoaned the infiltration of the sector by land speculators and the manner the industry is filled with all kinds of fliers about proposed housing developments, which never saw the light of the day.
They are worried about the huge number of unsuspecting members of the public being duped in the process.
They also condemned low quality of housing development, and absence of mass and affordable housing provision in the sector.
Ayinde, a former Commissioner for Physical Planning and Urban Development in Lagos State, stated that one of the problems of real estate sector in the country was absence of regulation, pointing out that people without requisite training had taken over the industry.
He noted a lot of misconception about the sector as people did not know what real estate is all about.
He therefore called on the government and stakeholders to streamline the industry's activities and identify roles of each operator in the sector.
Ayinde explained that there had not been enough collaboration among relevant professions in the sector, stating that failure to bring these professions to play their roles as required by quality professional service delivery had been part of the reasons most estates are not functional.
He said: "It is important to note also that there are other professions, not classified as being in the construction sector, but are ancillary and vital to the viability of housing delivery.
"These include the legal profession and the professions in the financial sector-banking, accounting, insurance and taxation.
"Successful projects always have the inputs of these professionals, and these professionals necessarily depend on a virile manufacturing sector for quality construction materials.
"There is nobody harmonising this. Government has to do this. We have an industry with no vision, we don't know the number of housing deficit. Our population is increasing every year and housing deficit is still 17million every year."
Ashiru-Balogun, a real estate developer, corroborated Ayinde, saying it was only in Nigeria that anybody wakes up to become a real estate developer.
"There should be regulations. There is need to identify estate developers just as it is being done in other climes such as United Arab Emirates, America and United Kingdom. There is need to identify who a real estate developer is," he said.
The Mixta boss wants the government to identify credible key stakeholders, especially the private sector participants and commit them to housing provision to reduce deficit in the country.
Most of the top billionaires in Nigeria are real estate investors. Real estate business is a money spinner of the highest level and it is presently booming in Nigeria with people making millions in it.
Other views
A former President of the Nigerian Institute of Building (NIOB), Mr. Chucks Omeife, said that absence of robust funding was a major problem in the sector, urging the government to set up special funding mechanism for the industry to propel its growth.
He said: "We don't need much regulation but funding. There are professional bodies in the sector and each has its own regulations. What the sector needs apart from funding is implementation and enforcement of the regulations.
"Developers are there for business concerns, but government needs to ensure enforcement of regulations on how they can build houses to meet Nigeria's standards."
Omeife called for the establishment of virile mortgage sector in the country, adding that home seekers should be able to access housing without having to pay through their nose.
"Government should give people a leeway to buy houses. Cash and carry syndrome in the sector must be stopped. People should be able to buy houses and pay over a period of time, say 2c years," he said.
Omeife also canvassed the setting up of a construction board for the management of quality assurance and skills acquisition in the industry.
Managing Director, HOB Estates Limited, Chief Olusegun Bamgbade, said there was enough regulation in the sector, pointing out that most of the professionals operating within the sector belonged to one association or the other.
"Maybe some people are afraid of competition; anything that is viable will attract competition. People will always come to real estate. There is need to encourage them to come in," he said.
He pointed out that real estate activities were into different categories, adding that while some were real estate speculators, others were developers.
He said: "Speculators will buy land and be expecting that the land will appreciate, but developers will build houses for people to buy. So people will always buy what they prefer."
Other challenges
Managing Director/CEO Afriland Properties, Mrs. Uzo Oshogwe, mentioned Land Use Act, poor policy, dearth of infrastructure, lack of access to government's subsidised housing development, poor financial support as major challenges to affordable housing.
She tasked the government on reformation of land registry to ease bottlenecks associated with land registration and titling.
Ayinde pointed out that ineffective housing finance was a major challenge in the housing sector
According to him, it would be impossible to segregate finance from housing, adding that N6 million price tag for housing is not affordable for a lot of Nigerians.
He said: "We must address the fundamentals of poor economy; we need to sort out the issue of housing finance."
Ayinde called on the Federal Government to embark on research and development (R&D), and come up with a sound policy on housing.
He also urged the government to create an enabling environment for the private sector to drive the sector and also allow the local governments to complement housing.
"Until real estate sector becomes an industry, we will not solve housing problems," the former commissioner said.
Last line
Apart from regulation, there is also the need for establishment of data bank on real estate sector to position it for both local and foreign investments.
Related