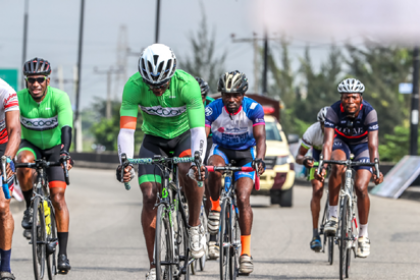 Cocoon Homes, a property development concern have called on Nigerians to embrace the sport of Cycling as it helps protect against several life-threatening diseases such as lung cancer, arthritis, depression, obesity amongst others.
•Farouk Imam, Managing Director, Cocoon Homes Ltd, leads other cyclists during an outing.
One of the activities that help in living and maintaining a healthy lifestyle for people of all ages is regular cycling. Cycling entails the use of virtually all the parts of the body and the mind. It also can serve as a bonding exercise for friends, families, colleagues, and communities at a relatively pocket-friendly cost.
It has been discovered that aside from reducing life-threatening diseases, cycling actually increases longevity. According to the International Journal of Sports Medicine, many Tour de France pro cyclists lived up to 81.5 years compared to the general population's 73.5 years: a 17-percent increase.
With the right invest-ment in infrastructure and environment friendly policies, cycling in Nigeria could be huge and successful as seen in developed economies. To achieve this feat, there is need to build the capacity of the younger generation to encourage them to imbibe a strong cycling culture. There is the need to create a platform for athletes to develop and grow into professional cyclists.   As a socially responsible company, Cocoon Homes has centred its corporate social responsibility on driving healthy lifestyle through cycling. The innovative real estate company and developers of Cocoon Atlantic Estate, partnered with Sustainable Cycling Foundation (SCF), organizers of the Lagos City Criterium, to promote cycling as a way of life in Nigeria. The extended objective is to build a thriving cycling community of sportsmen and women who will represent the country in international competitions.
According to Mr. Farouk Imam, Managing Director, Cocoon Homes Ltd, the Lagos City Criterium is a way of developing cycling as a sport amongst people of all ages and backgrounds.
Farouk reiterated that the company is committed to impacting communities by advocating and creating awareness to promote healthy lifestyles and provide access to good quality homes for individuals and families. He said, "We meticulously planned our Cocoon Atlantic project with this objective in mind."  Cocoon Homes also participates in public sports events, host team rides, and provides mentorship and coaching to young athletes, effectively motivating communities to get on their bikes."