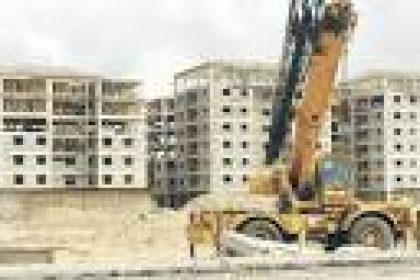 Real estate venture is capital-intensive. While this huge capital is often difficult to come by, experts and advisors have propounded guiding principles for developers. DAYO AYEYEMI reports
One major thing the Federal Government needs to tackle urgently is developing the real estate sector, which has not shown any sign of recovery from recession going by the number of abandoned projects dotting the landscape.
As investors are beginning to show confidence in the Nigerian economy due to the government's intervention in forex, rebound in the capital market and rising oil price, real estate developers are overwhelmed with dearth of funds to complete their projects and start new ones as banks are still skeptical to grant loans. While some of the developers are currently talking to banks for project finance, others have taken the campaigns to Nigerians in diaspora and working class home seekers.
However, some industry experts have tasked developers to package their products (projects) very well to attract financiers or investors. Understanding critical problems with financiers of real estate projects, Managing Director, MCO Real Estate (MCORE), Mr. Munachi Okoye, said that developers must package themselves by following strict guidelines to attract project finance.
MCORE is a real estate investment and advisory firm that offers services and solutions to investors, developers and other third parties towards the development of and investment in large scale real estate and infrastructure projects. For any developer seeking funding for a project, Okoye stated that certain basic principles must be applied. For starters, he pointed out that funders would not finance the acquisition of land, enjoining developers to bring land with clean title to the table as their equity contribution. For debt, he said that funding would always exchange against title, which, according to him, acts to secure the loan.
"Without title, there is no collateral to secure the loan," he said. In addition to land, the MCORE boss explained that developers were also expected to contribute cash as their equity investment. Okoye said: "This is called having 'skin in the game' and gives the investor the comfort that the developer is fully committed to the project's success and would not walk away if the project is challenged."
He also wants developers to know that funder would need to know that the project is attractive to its target market, pointing out that this would be evidenced by pre-sales. "Pre sales backed up by deposits reduce the need for external funding hence improving returns," he said.
Besides all these, Okoye stated that financiers would need to know that developers and his team have the experience to successfully deliver the project on time and within the budget, saying, "If a funder is not comfortable with a contractor he may ask that the contractor be replaced with a more experienced one that has a track record of delivery."
The MCORE boss reminded developers of the need for a good and well-written feasibility report about the project, saying that funders would require a feasibility study particularly for large projects. According to him, a well written feasibility study will provide a window through, which an investor would be able to view the opportunity presented by a proposed project better.
"A good feasibility study is far more likely to attract funding from investors than a poor presentation," he said. Okoye stated that investors would always focus on their return at the end of the project, adding, "if return is not attractive, no investor will invest."
Joint ventures
In relation to joint ventures, the managing director said that developers must ensure that the JV partner are not overcompensated, stating that if this happens, there would not be adequate return for the investor.
He said: "It is imperative that the developer looks at all the revenue generating aspects of his business – lettable areas, units for sale, land for sale, advertising revenues etc and seeks to design in such a way that revenues are maximised while costs are managed. "Costs such as lifts, swimming pools, fittings and fixtures and sub-structure costs among others, should be engineered wherever possible to minimise costs while delivering value."
According to him, real estate developers must be opened to multiple exit strategies since market would determine how a deal is ultimately executed.
He noted that residential developers undertaking a JV might seek to compensate investor with units, adding that in certain cases, some investors might not want the trouble of selling units but preferred to receive cash. Exits for larger developments such as hotels, shopping malls and commercial office developments, Okoye said, would require additional expertise, adding that such project are usually sold by private equity investors to international companies or funds.
"In recent times developers have sought to sell commercial office developments on a per floor basis making it easier to sell in the local market," he said.
In the final analysis, he advised that a good developer has to juggle costs, land acquisition, regulatory issues, funding, design, revenue generation, business requirements, construction and deliver a successful project that meets or exceeds the requirements of the user while providing an attractive return to the investor. Nigeria received up to $21 billion inflow in 2017 through Diaspora remittances. It has also been estimated that remittances to developing countries would grow by 4.8 percent to $450 billion.
Other projects
In a move to attract funding, the Director of Homework Development and Properties Limited, Jide Adekola, has restored the trust of foreign investors in Nigeria's real estate sector.
This is the major outcome of the recent conference, organised by the Association of Nigerian Physicians in the Americas (ANPA) in Atlanta, Georgia, United States, where the Lagos-based leading real estate company showcased its affordable housing units and promoted the recent positive developments in real estate industry in Nigeria.
Adekola said the forum provided a platform that helped to change the perception that foreign investors would not get value for money or might get scammed in Nigeria.
Besides, he said it has also created the awareness that there are professionals in the sector who are able to provide quality products in due time. "The change in perception, which we have created, would in no small measure boost businesses and increase the volume of foreign direct investments that can engender increase in gross domestic product of the country, "Adekola said.
Principal Partner, Kola Akomolede and Company, Chief Kola Akomolede, stated that when things happened in the economy, it would take time for real estate sector to rebound.
While he urged developers to package their products for would-be investors, Akomolede said: "It will take time for property development projects that have been stopped to resume and be completed.
On how he attracts funds for estate development, Group Managing Director, Adron Homes, Emmanuel King, the developer of Treasure Parks and Gardens, said he had spread his tentacles to Nigerians in diasporas, especially in United Arab Emirates, United Kingdom and United States of America, targeting them for home-ownership in the country. King said that many of them came for site visitation, subscribed and convinced their friends, who are now potential homeowners in his estates.
Last line
Apart from good feasibility report and project packaging, a good developer needs a good team to help his business grow.
Related