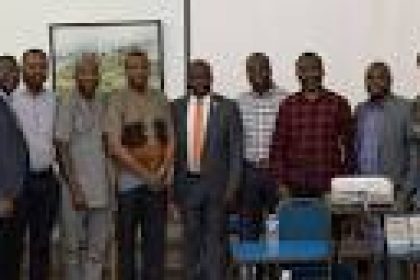 by ANTHONIA OBOKOH |
March 9, 2018 12:00 am
A well-tailored policy reforms will boost cross- border transactions, investment in Nigeria to enhance economic development according to the Law firm of Prince Joel and Associates.
Nigeria government should re-evaluate the ease of doing business policies "there is an urgent need to retool the existing investment policies necessary with the view to attracting the desirable investors into the country," Prince Williams-Joel, the managing partner, Prince Joel and Associates.
Speaking at the event themed 'Real Estate Investments and Ease of Doing Business in Nigeria', held in Edinburgh, Scotland on the 5th of March, Williams-Joel said, the primary aim of  the event is to attract leading global and Nigerians professionals in the diaspora to take advantage of the vast investments opportunities in Nigeria's real estate sector.
The Ease of Doing Business is an index, developed by the World Bank, that scores and ranks countries based on how easy it is to set up and operate a business there. The focal point of the evaluation by the global apex bank is premised on the policies government put in place to guarantee business start-ups, a seamless process in getting permits, or licenses depending on the sector of investment. Power, loan, land permit, payment of multiple taxes, bureaucratic bottle necks, among others.
"The news about Nigeria's improvement in the Ease of Doing Business index is indicative of how favourable the Nigerian economy is for business operations and these issues are important considerations for Foreign Direct Investors  (FDI) who are not only interested in the macro-economy but are also interested in the existing regulatory framework, policy and security," Williams-Joel said.
The discourse provided a platform for aspiring and established investors to receive accurate, useful and current market insights and lead conversations that will address the myths and misconceptions of investing in Nigeria, while connecting investors with pre-qualified, safe real estate investment opportunities from reputable realtors in Nigeria.
Collins Ikhide, president, Association of Africans in Scotland (AAS) in his remarks said "Engagement with Africans residents in Scotland revealed some of the challenges facing our community include a lack of support for new residents, integration, mental health issues, problems with finding suitable jobs, and progression whilst in employment among other issues".
"our members and Nigerians in diaspora will utilize this discussion event to understand and appreciate the enormous opportunities that abound in Nigeria's real estate sector and the commitment of the government to the removal of all forms of bottlenecks that stifle the inflow of FDI and potential economic activity in Nigeria,"added Abayomi Odubanjo, Vice President, Association of Africans in Scotland.
In summary, Daniel Omoraro Secretary, Association of Africans in Scotland said "the friendlier an economy is to business operations, the more attractive it is for investments, which is a vital catalyst of economic growth and development. Therefore, Nigeria's rise in the Ease of Doing Business Index is laudable and positive for the recovery path".
ANTHONIA OBOKOH