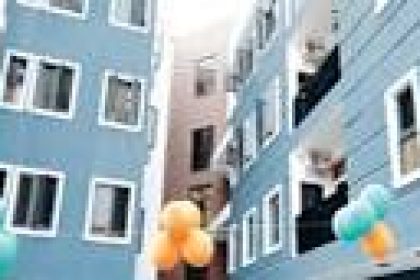 Having one of the largest Diasporas in the world, Nigeria, through real estate developers is trying to help its citizens living overseas overcome their fears of homeownership back home and also improve the economy. DAYO AYEYEMI reports
The disturbing issue of abandoned and unoccupied property across the country is about to be curtailed as the steps are being taken by real estate developers, investors and the government to get buyers for them.
New Telegraph gathered that while many real estate developers are still battling with the sales of their 'over-priced' luxury vacant properties, others have delivered, closed transactions and already expanding their brand to Nigerians in diaspora, especially those living in the United Kingdom and the United States.
In what they termed 'breaking of barriers and expanding new frontiers,"some of these developers are already targeting diaspora Nigerians for their housing schemes.
Private developers are not alone in this rush as the Federal Government is also trying to lure the Diasporas to invest in Nigeria's property market, through its Nigerians in Diaspora Housing Programme (NIDHOP).
Essentially, the pilot project is expected to commence in four Nigerian cities – Abuja, Benin, Port Harcourt and Lagos. The second phase of the project is expected in Enugu, Kaduna, Asaba and Ibadan.
Diapora remittances
According to the Senior Special Assistant to the President on Foreign Affairs and the Diaspora, Abike Dabiri-Erewa, as at March 2017, Nigerians in the Diaspora hit 15 million around the world, competing with India, the home country of the largest Diaspora in the world standing at 16 million, and other countries such as Russia and Mexico as one of the largest Diasporas globally.
Furthermore, according to the World Bank's Migration and Remittances, Fact book 2016, nearly $21billion was sent home in 2014, making the Nigerian Diaspora the sixth largest in terms of remittances.
Again, $22 billion was targeted to flow into Nigeria in 2017 through Diaspora remittances.
Given these numbers, it comes with no surprise that many developers are trouping abroad to market their products.
Developers' views
Prepared for an opening, Chief Executive Officer (CEO), Oakhomes Limited, Mr. Kayode Olusanya, said his firm was ready to help Diaspora Nigerians break barriers of fear and lack of trust in investing in the nation's real estate.
Unperturbed by the glut in Nigeria property market, the CEO said that providing affordable luxury houses without lowering standards has been a game changer for the company.
In order to conquer fear by Diaspora Nigerians by attracting them to new luxury centered projects by his company, Olusanya told this newspaper that plans had been concluded to embark on roadshow in the UK and US in April.
Justifying the event, He said: "Many Nigerians abroad want to invest in housing in Nigeria, but because they have been duped once by relatives and friends, they are scared. We want to help them overcome the fear."
According to him, the company through the London's event, will play host to numerous Nigerians in the Diaspora and grant them the opportunity to be part of housing projects in Nigeria.
Offering of housing opportunities to Nigerians in Diaspora, Olusanya said, would allow the people hold something back home, irrespective of real estate assets they hold abroad.
Given the reputation of his company, Olusanya said it would stand in gap for them, adding that his firm would be partnering with some private companies in the UK for the campaign.
He listed seven projects to benefit from, adding that he would be unveiling two major projects to the kitty.
"House types in some of the esates include semi-detached duplexes, detached duplexes and terraces in Victoria Island and Ikoyi, Lagos, " he said, adding that minimum house price starts from N70million.
Olusanya revealed that his business model had always been off plan model, where subscribers pay upfront for the housing development.
"As you pay, we put it into development. You have 24 months to spread the payment," he said.
For subscribers interested in longer-tenor, Olusanya said the company's partner's banks, Stanbic IBTC and Standard Chartered, would arrange mortgage finance for them.
Director of Homework Development and Properties Limited, Mr. Jide Adekola, an architect, said he had been restoring the trust of Nigerians in the Diaspora in real estate sector.
Adekola gave assurance to Nigerians in Atlanta, Georgia, United States, while showcasing his products and promoted the recent positive developments in the industry.
He said the company had provided a platform that helped to change the perception that foreign investors would not get value for money or might get scammed in Nigeria.
He also created the awareness that there were professionals in the sector who are able to provide quality products in due time.
Encouragement for the Nigerians Diaspora to invest in the country's real estate sector, however, is also coming from the private sector.
Managing Director of Lagos-based Livelihood Homes, Kelly Nwogu, has urged them to channel some of their resources into buying a house in their home country to create a better future for them when they return home.
Another company, The Anirejuoritse Global (TAG) Nigeria Limited, organisers of Nigeria's Real Estate Exhibition and Trade Show for Diasporas in the UK and the USA, said the aim was to foster trade relations between property market in Nigeria and its potential customers in the diaspora.
Fine and Country West Africa, a London-based real estate firm, found that Diaspora investment in Nigeria's real estate increased by approximately 25 per cent in the 18 months prior to August 2017.
It's Business Development and Sales Consultant for West Africa, Nonye Mike-Nnaji, has advised that the governments at all levels should ensure the implementation of an improved, transparent, and automated title system to encourage more real estate activities by Nigerians in the Diaspora.
Last line
The Federal Mortgage Bank of Nigeria (FMBN) must expedite action on the Diaspora Mortgage Housing Scheme to assist Nigerians living abroad own homes in Nigeria.
Related